88 local government leaders have now committed to reach net-zero five years earlier than the UK government.  
Ahead of the COP26 conference, 23 more council leaders have signed up to the UK100's 'Net Zero Pledge.'
The pledge commits the local authorities to cutting their council emissions to Net Zero by 2030 and those of their residents and businesses by 2045 – five years ahead of the UK government's 2050 target.
The new UK100 members include South Tyneside Council, Suffolk County Council, Portsmouth City Council, East Ayrshire Council and Greater London Authority.
Christopher Hammond, Network Membership Director at UK100, said: 'The fundamental challenge of our time is moving towards Net-Zero greenhouse gas emissions to preserve our way of life and avert climate breakdown.
'As the international community comes together in Glasgow for COP26, global decisions need to be delivered at a local level. It's a task that will need bold leadership, legislative clarity, shifts in behaviour and enthusiastic adoption of new technologies.
'Local government is uniquely placed to overcome these challenges. Not only do they provide services, but they have a unique sphere of influence.
'Fantastic things are already happening from UK100's ambitious members, in county, city and town halls across the country. They are already playing a decisive role in tackling climate change ahead of the UK government's target, making their communities fairer, safer and greener.'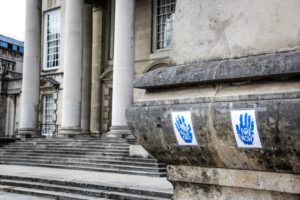 Cllr Lynn Williams, leader of Blackpool Council, said: 'I am very pleased to sign the UK100 pledge and join with councils from across the country who want the government to go further and faster on climate action.
'We are all guilty of taking for granted the systems on which we build our lives, ecological and man-made, natural and designed. The climate crisis challenges both.
'Discussions and conversations have shown me that in our community there are lots of energetic people and organisations with bright ideas just waiting to show how we can change the ways we live, work and play.
'Our efforts now can transform the lives of future generations. Together, we will re-make our town, society and planet, so that we will never again need to feel a pang of guilt as we consider our legacy.'
Photo by Gary Butterfield