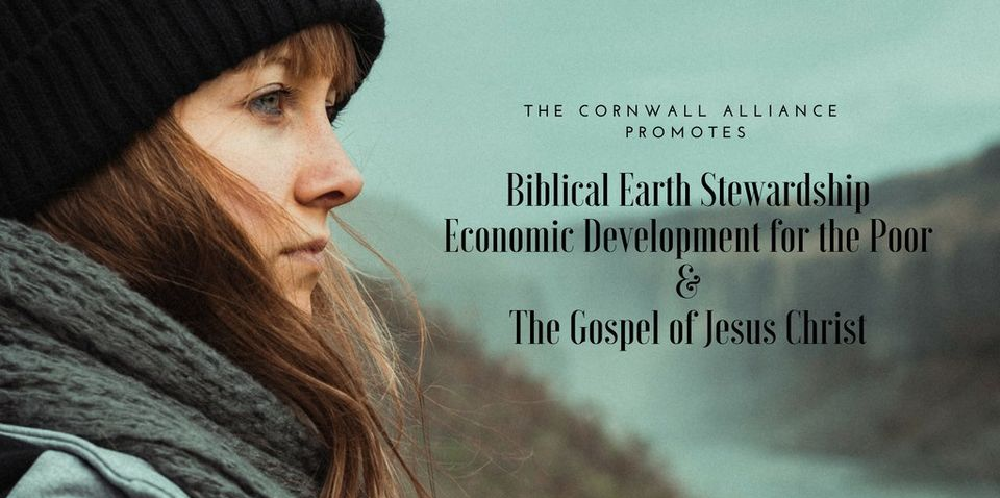 We ended Part 1 of this history with reference to An Examination of the Scientific, Ethical, and Theological Implications of Climate Change, produced by the Interfaith Stewardship Alliance—the original name of what became the Cornwall Alliance for the Stewardship of Creation. I don't think any of us involved in creating it could imagine all that would come of it. But it shook some things up.
Over a decade before, Marxist atheist astronomer Carl Sagan (famous for his Cosmos PBS program, each episode of which began, "The Cosmos is all that is or ever was or ever will be"—a deliberate take-off on God's Self-description as the One "who is and who was and who is to come, the Almighty") and James Parks Morton, the New-Age Dean of the Episcopal Cathedral of St. John the Divine in New York City (who held baptismal ceremonies for zoo animals) had founded the National Religious Partnership for the Environment (NRPE). Heavily funded by the Rockefeller Foundation, the Tides Foundation, the Hewlett Foundation, and lots of others on the Left—no friends of orthodox Christianity—the NRPE had four subgroups: for Jews, Roman Catholics, mainline Protestants, and evangelicals. The one for evangelicals was the Evangelical Environmental Network (EEN), founded out of Evangelicals for Social Action, the social-justice-leaning organization led then by Ronald Sider.
Those foundations poured millions of dollars into the NRPE, including into the EEN. The main goal was to get their constituents to embrace fears of catastrophic, anthropogenic global warming (CAGW) and hence policies to curb it—mainly by reducing and eventually ending fossil fuel use. Suddenly big coal, big oil, and big gas were depicted as evil—although they provided over 85% of all the energy used around the world, including in the United States, energy indispensable for food, clothing, shelter, and everything else that keeps us alive and healthy. Each group produced articles, lectures, seminars, and declarations toward that end.
Obedient to its funders, in 2005 the EEN produced a campaign called the Evangelical Climate Initiative (ECI), centered on a declaration, Climate Change: An Evangelical Call to Action, by Union University ethics professor David Gushee. Beginning in late 2005, Richard Cizik, then Vice President for Public Affairs of the National Association of Evangelicals (NAE), urged the NAE to endorse the ECI and its declaration
In response, the Interfaith Stewardship Alliance (ISA), joined by major evangelical leaders like Chuck Colson, James Dobson, and D. James Kennedy, wrote an open letter in early 2006 to the NAE board saying the debate over global warming was not over and the NAE, representing many different evangelical denominations, should not align itself with any position. NAE's board decided not to endorse the ECI. Knowing, however, that Cizik was intent on reversing that, the ISA enlisted the aid of reputable scientists to produce a new study, A Call to Truth, Prudence, and Protection of the Poor: An Evangelical Response to Global Warming, by climate scientist Dr. Roy Spencer, energy analyst Paul Driessen, environmental economist Ross McKitrick, and myself, which was quickly endorsed by a wide variety of qualified specialists in the appropriate fields. This and the accompanying Open Letter to the Signers of "Climate Change: An Evangelical Call to Action" and Others Concerned About Global Warming led to my appearance in the PBS documentarian Bill Moyers's film Is God Green? representing our views in opposition to those of the EEN. Later I was invited to speak to an International Conference on Climate Change at the Vatican in Rome, sponsored by the Pontifical Institute for Justice and Peace; to testify before Congressional committees; and to brief the White House Council on Environmental Quality. From then on various other Cornwall Alliance-related scholars, like Dr. Roy Spencer and Dr. David Legates, have repeatedly given expert testimony before Congress and state legislatures, and have spoken for the periodic International Conferences on Climate Change hosted by the Heartland Institute.
In response to our Call to Truth, Prudence, and Protection of the Poor: An Evangelical Response to Global Warming, some faculty members of Union University, where Gushee taught, then arranged for Gushee and me to debate there in September 2006. Interestingly, as Gushee and I walked down a hallway to the auditorium for the debate, he offhandedly said to me, "I never realized how complex the science was until I started preparing for this debate." I couldn't help wondering why, then, he had thought himself qualified to write a call to action that depended on the very scientific understanding he didn't have; to ask hundreds of trusting evangelical leaders who lacked the scientific expertise to evaluate it to sign it; and to send it forth into the world to build evangelical support for policies costing trillions of dollars while impeding the conquest of poverty for billions of people around the world. The three-part debate—addressing climate science, the economics and engineering of "renewable" versus conventional energy, and the consequences of climate and energy policy for the world's poor—lasted over three hours. Its outcome was sufficiently clear that Union University President David Dockery removed his endorsement from the ECI and endorsed our document instead.
And the rest, as they say, is history. The EEN and the ISA—the latter renamed the Cornwall Alliance for the Stewardship of Creation in 2007 to avoid confusion with a similarly named group and make our connection with the Cornwall Declaration on the Stewardship of Creation clear—have been on opposite sides of the global warming debate ever since. EEN has embraced the view that human-induced global warming is causing global warming that will have catastrophic impacts on humanity and the rest of life and that efforts to curb it by replacing fossil fuels with wind and solar as primary energy sources, though they will cost many trillions of dollars and raise the costs and reduce the reliability of energy for everyone, slowing the conquest of poverty in the developing world, will yield more benefits than harms. The Cornwall Alliance has embraced the view that human-induced global warming, while real, is relatively slight and largely benign and that efforts to curb it will rob people everywhere of the abundant, affordable, reliable energy indispensable to rising and staying out of poverty—the risks of which far outweigh those of climate change.
Are we effective? George Soros's New America Foundation clearly thinks so. In 2014 it commissioned two sociologists to find out why, after 20 years and scores of millions of dollars spent to bring them on board about global warming, evangelicals remained the most skeptical demographic in America. Their answer, published in a major paper and introduced with a press conference, boiled down to: the Cornwall Alliance. (Significantly, in that press conference the speakers used the phrase "rent an evangelical" to refer to those who had embraced the climate-alarmist message promoted in the 20-year campaign. We documented some of that payoff in our paper Evangelical Environmentalism: Bought and Paid for by Liberal Million$$$? but much of it is hidden in labyrinths these foundations use to hide their tracks.)
We followed our Examination of the Scientific, Ethical, and Theological Implications of Climate Change (2005) and our initial Call to Truth, Prudence, and Protection of the Poor (2006) with
Resisting the Green Dragon, a collection of 12 lectures and a 1-hour documentary featuring 9 speakers—scientists, theologians, historians, and economists—and an accompanying book, Resisting the Green Dragon: Dominion, Not Death (2009), by physicist Dr. James Wanliss (both no longer in production);
A Renewed Call to Truth, Prudence, and Protection of the Poor: An Evangelical Examination of the Theology, Science, and Economics of Global Warming (2009), the work of 29 authors and reviewers;
The Cost of Good Intentions: The Ethics and Economics of the War on Conventional Energy (2011), by environmental economist Dr. Timothy Terrell;
A Call to Truth, Prudence, and Protection of the Poor 2014: The Case against Harmful Climate Policies Gets Stronger (2014), by climatologist Dr. David Legates and environmental and climate economist Dr. G. Cornelis van Kooten, with multiple expert reviewers; and
An Open Letter to Pope Francis on Climate Change (2015), signed by hundreds of scientists and other scholars; and other papers and declarations.
Before and since then, we've written, and continue to write, hundreds of articles for newspapers, magazines, and numerous websites, including our own, and we provide speakers for churches, schools, colleges, conferences, and other settings, all around America. Our mission? To educate the public and policymakers about
Biblical earth stewardship (what we call godly dominion: enhancing the fruitfulness, the beauty, and the safety of the earth, to the glory of God and the benefit of our neighbors, so addressing the two Great Commandments to love God and neighbor);
economic development for the poor (the conquest of poverty through private property rights, entrepreneurship, free trade, limited government by the consent of the governed, and the rule of law, coupled with access to abundant, affordable energy); and
the good news that sinners like us can be reconciled to God the Father by His grace through the gift of faith in Jesus Christ's atoning death and resurrection, and, having been reconciled, can grow in Christlikeness through the power of His Holy Spirit, to understand and use His creation in ways that glorify Him and serve others.
During most of those years we operated as a project of another organization. In 2017–2018, we recognized we could operate much more efficiently and with lower costs by becoming independent, so in 2018 we formed our new corporation, and in 2019 we received our letter from the Internal Revenue Service affirming our 501(c)3 nonprofit status. As a result, with greatly reduced overhead costs, we've been able to make each dollar donated stretch farther and at last are able to begin expanding staff to enlarge our impact. Tuesday, August 31, 2021, is our sixteenth birthday. We're grateful to all the many scholars, both within and outside the Alliance, who have worked with us through the years. We look forward to even more fruitful labors in the coming years—for which we covet your prayers and request your financial support.