For more than 35 years, Ocean Conservancy® has mobilized millions of volunteers through the International Coastal Cleanup® (ICC), removing more than 344 million pounds of trash from beaches and waterways around the globe. By gathering data on each item collected, volunteers have helped identify trends and inform policy action on the global ocean plastic issue. Our latest ICC report highlights one such trend: Nearly 70% of the most commonly collected items are effectively unrecyclable, and of these, nearly half are food- and beverage-related.
We need to take action to tackle the recyclability crisis on our shores. November 15 is America Recycles Day, and this year, it's more important than ever.
As the leading generator of plastic waste globally, and with only about 9% of this waste being recycled, the United States still has much to learn about what should and should not be sent to the dump. That starts with debunking common myths about recycling.
With roughly 71% of Americans reportedly ordering delivery on a weekly basis, Ocean Conservancy took a deep dive into the nation's takeout habits and investigated individuals' knowledge around which common food waste items can be recycled. The results paint a picture of an American public that is largely unaware of how to dispose of their takeout trash—and it's not their fault.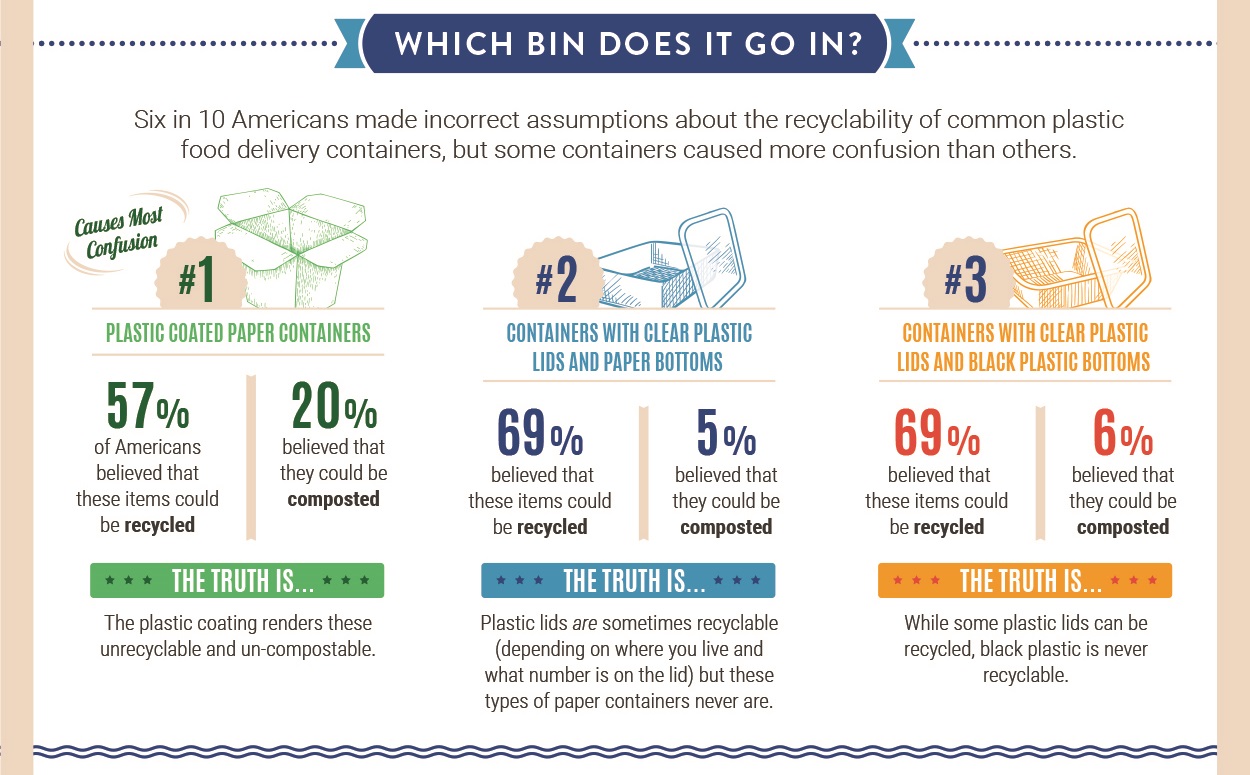 You wouldn't know by looking at them, but most takeout containers aren't recyclable. Despite featuring the "chasing arrows" symbol, which has become synonymous with recyclability, most of these products aren't accepted in the recycling across many communities—talk about confusing!
Americans are fed up and want to see this confusion eliminated: One in six Americans support the passage of local ordinances improving recyclability standards for food delivery packaging so that consumers are empowered to recycle better.
As an individual, you can do your part by joining Ocean Conservancy's ICC, reducing use of single-use plastics and looking up your local recycling guidelines. Resources like the University of Georgia's "Can I Recycle This" tool can help make it easier than ever to figure out which bin your trash goes in.
While personal actions are critical, to truly tackle ocean plastic pollution we need systemic change to produce less and reuse more. Fortunately, steps are being taken in the halls of power to improve recycling and mitigate the more than 11 million metric tons of plastic pollution entering our ocean every year. Last month, a California law ended the practice of putting the "chasing arrow" symbol on unrecyclable products, and the recently passed Infrastructure Investment and Jobs Act—also known as the Bipartisan Infrastructure Deal—made the smart decision to invest federal dollars in the following efforts:
$200M for the National Oceanic and Atmospheric Administration's Marine Debris Program—This program is the "tip of the spear" for the U.S. government in confronting the ocean plastic waste problem, both at home and abroad.
$275M for Save Our Seas 2.0 Infrastructure Grants—These grants will support local authorities looking to enhance waste management and recycling infrastructure.
$100M for the Environmental Protection Agency's Pollution Prevention Program—These grants are designed to help businesses adopt and improve pollution prevention and reduction practices.
$75M for the RECYCLE Act—This new initiative utilizes EPA resources to educate households and consumers about residential and community recycling programs, decreasing contamination in the recycling stream and supporting recycling infrastructure.
These investments are just the beginning. While there's much to celebrate this America Recycles Day, there's still a long way to go to protect our ocean from plastic pollution. Sign up for Ocean Conservancy emails and advocacy alerts to learn more about eliminating unrecyclable plastics, improving waste management systems and cleaning up our ocean for good.

The post Debunking Foodware Myths on America Recycles Day appeared first on Ocean Conservancy.