Ryan Demaray, managing director of SMB EMEA, SAP Concur explains how organisations can provide complete visibility over travel operations.
The pandemic caused a standstill for travel worldwide, resulting in global emissions declining and highlighting society's impact on the environment for both consumers and companies.
Though major changes to the lockdown rules are now in effect across the UK, travel restrictions, including the traffic light system are still being implemented.
However, the government continues to ease the rules around travel, giving business travellers the opportunity to continue their operations to maintain and nurture worldwide relationships.
As it's harder for business travellers to grow these relationships over video calls, organisations are now considering their travel options again. After the previous 18 months, sustainability should be high on the agenda for corporations and travel decision-makers should be looking to implement a responsible approach to travel for their staff.
According to SAP Concur's Corporate Travel Sustainability Index, 66% of employees want to travel more sustainably but many are unsure how to incorporate this.
It's clear that when restarting travel, companies will have a lot to consider when it comes to environmental impact and will need to create sustainable plans and alternatives.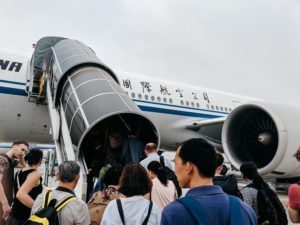 Provide more choice to encourage informed decisions
The drastic shift in climate consciousness now gives organisations the perfect opportunity to consider different modes of travel and provide complete visibility for their workforce over travel operations. In order to adapt quickly to climate issues, businesses need to educate and raise awareness around the current environment to encourage employees to make more informed decisions.
Awareness is essential for staff and will help to influence their business journeys, encouraging them to adopt cleaner modes of transport. This will help employees to choose the more sustainable option which can be as simple as choosing a rail ticket over hiring a private car or even better, choosing a virtual meeting over a face-to-face meeting. To support this, organisations can share information on sustainable hotels and fuel-efficient travel options as well as implementing useful initiatives to support these choices.
Invest in the right technology
Now that hybrid working is the new norm for many SMBs, some businesses may struggle to have complete visibility of their employee's actions.
A digital environment will ensure that a sustainable approach has an immediate impact and is adopted faster. Adopting the right technology can give employers insight into their worker's data, which they can store and measure. This can then be used to monitor the business' total carbon footprints, showing the carbon emissions for certain travel routes. Having access to this information can encourage better decisions for employees when they plan their journeys.
As well as this, companies can carry out rewarding initiatives to reduce carbon emissions while supporting employees to choose greener travel partners and green hotels. This also gives employees full visibility and flexibility, allowing them to improve their sustainable movements.
Consider the sustainable future
The travel industry continues to adapt and the demand for sustainability will continue to grow to meet national and global matters that are impacting us all.
With this in mind, corporate sustainability will continue to be raised until business leaders, decision-makers and staff are able to provide flexible, green and safe travel options.
Eventually, this will lead to organisations making more informed decisions about meetings, leading to less fewer business trips as companies consider whether they are necessary for maintaining relationships and whether alternative options such as virtual calls should be held instead. The pandemic has already shown companies new methods for maintaining relationships that does not involve face to face meetings.
Despite these considerations potentially leading to less travel, some businesses might still not see a green approach as necessary. That's why providing full visibility is useful for both businesses and employees. By updating employees about the environmental impact of transport will encourage them to choose the cleaner options. Investing in technology to accommodate sustainable preferences will be a useful solution for quick adoption and help to support those who want to make greener choices.
By Ryan Demaray, managing director of SMB EMEA, SAP Concur