For the third consecutive year, Ocean Conservancy will be represented by an NFL-player for the league's My Cause My Cleats campaign at this Sunday's game. Los Angles Chargers Defensive Lineman Jerry Tillery becomes the latest member of Team Ocean and is now the ninth NFL player since 2019 to choose to represent Ocean Conservancy for the initiative.
Tillery, a Shreveport, Louisiana native, has been described as a renaissance man and counts his love for the ocean among his many interests outside of the game. A frequent visitor to Hawaii, where he trains in the offseason, he also relies on the scenery there to make major life decisions. As a junior in college, he was deciding whether or not to return to Notre Dame for his senior year or enter the NFL draft. He contemplated that decision on a beach in Hawaii. "There's no better place to make a decision than on a beach in Hawaii," Tillery said.
His love for Hawaii led him to design one cleat with an outline of the islands, palm trees and waves. That scene played a pivotal role where he made the choice to go back to Notre Dame for his senior year where he earned All-American honors and a degree in Economics. His path towards that major started when he was a senior in high school and interned in the accounting department in the Shreveport mayor's office. When he's through tallying tackle and sack numbers, he hopes to pursue a career in finance.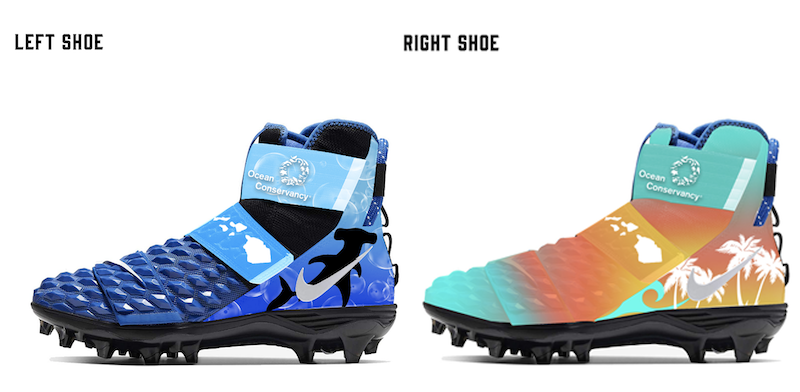 Because Tillery is a triathlete and an avid traveler, it's appropriate that his other cleat features the Hammerhead Shark, which travels far and wide, and logs some of the most miles covered by any species of shark. The Hammerhead moves with speeds as fast as 25 miles per hour. Tillery started competing in triathlons in high school in Louisiana.  He's also traveled widely, completing study-abroad programs in South Africa and Ireland, and spending a spring break in Germany, an Easter in Canada and a two-week program in Japan.
This week's travels take Tillery and the second-place Chargers to Cincinnati where they will face the Bengals. Tillery is hoping to keep the Chargers in the thick of the AFC Playoff race and notch a win against his former Notre Dame teammate and fellow Team Ocean member, Khalid Kareem, a defensive lineman for the Bengals. His excitement to wear these cleats in support of the ocean on Sunday can be best summed up by his words:
"The Ocean, the waves, the wildlife bring me great peace and joy. It's essential that we all do our part to preserve it whether in Los Angeles, Louisiana or South Bend. That's why I'm proud to support Ocean Conservancy this year as a part of Team Ocean."
Game Broadcast Info: Los Angeles Chargers at Cincinnati Bengals, Sunday 12/5 at 1 p.m., CBS
The post Los Angeles Chargers Defensive Lineman, Jerry Tillery Supports Ocean Conservancy for 2021 My Cause My Cleats appeared first on Ocean Conservancy.