When I was a kid growing up in Merritt Island, Florida, I absolutely loved baseball—but what's a Florida kid to do when there's no local team to support? Most folks might forget that there was no major league baseball team in Florida until the 1990s.
So when the Florida Marlins first came to play spring training games at Cocoa Expo Stadium just across the Indian River Lagoon from Merritt Island, I was ecstatic. And then, when the franchise ultimately set up a minor league team based in Brevard County, the excitement levels were through the roof for my friends and me. And the icing on the cake? The powers that be in the Florida Marlins ownership were going to let the fans decide what to name the farm team. Our own local team, and the ability to name it: how cool is that?
What's the natural choice to name a baseball team for people who live on the Indian River Lagoon in eastern central Florida? The Brevard Bullsharks because of the scariness factor? The Brevard Blastoffs because of proximity to Kennedy Space Center? Definitely not.
We Brevardians voted: the Manatees.
Sure, they aren't fast or particularly agile. They aren't scary or very intimidating. But nothing says Brevard County, or the Indian River Lagoon, like a West Indian manatee.
The Indian River Lagoon, or as we have always called it, the River, is a massive brackish water estuary running over 150 miles and across four counties down Florida's central eastern coast. It is one of the most ecologically diverse places on the planet and is traditionally home to teeming wildlife. My dad used to tell me that in the 1960s when he lived on the Banana River, a component of the Indian River Lagoon system, you could hardly fall asleep at night because of the constant sound of jumping mullet. I think he was exaggerating, but the point was always well taken that the River was a wild place full of life.
Manatees have always been a staple of this ecosystem where they lazily roam around eating copious amounts of seagrass, each manatee eating as much as 100 pounds of seagrass per day. I have countless early memories of swimming in the River in South Merritt Island, near Georgiana where I grew up, and being startled by a manatee that I didn't know was there that just came up for air—nothing to be scared of, because manatees truly are gentle giants, but startling nonetheless.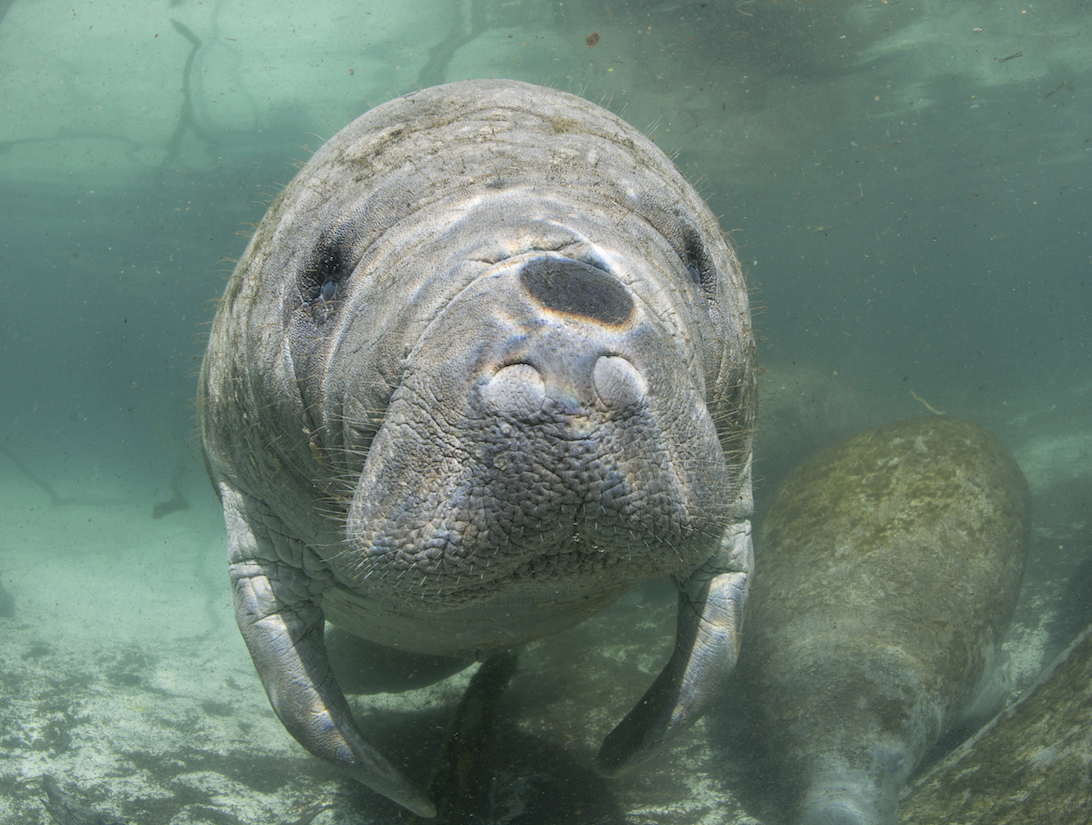 Baseball's Brevard County Manatees are proof that the gentle sea cow is so deeply interwoven into the fabric of the Floridian identity. That's why it's so tragic, so distressing, to see what is happening to manatees in Florida right now.
Over the past year, nearly 1000 manatees have died, mostly due to starvation—this is more than 15% of the total manatee population in Florida. Thousands of acres of seagrass are dying in the lagoon because of compromised water quality, which is attributable to nutrient pollution from a range of human-borne sources. Over 300,000 residential septic systems surrounding the Indian River Lagoon are leaching waste into the water, municipal sources lack advanced wastewater treatment facilities and commercial and agricultural runoff abound. All of this fuels harmful algal blooms and deteriorates water quality.
We humans have made Florida water inhospitable to manatees and that includes waterways around the state beyond the Indian River Lagoon. And we desperately need solutions to fix the damage done and staunch the bleeding or we could lose manatees forever.
As a threshold matter, we can take the common-sense, obvious step of relisting the manatee as endangered—this would provide some critical habitat protections and could reduce the threat of boat strikes that can kill manatees.
But beyond that, we need comprehensive water quality reforms that reduce nitrogen and phosphorus that enters our coastal waters from the whole gamut of human sources. And we need concerted efforts to nourish and restore seagrasses, which are food for manatees but also critical to overall water quality and helpful in terms of carbon removal and mitigation.
The manatee is a towering Floridian icon, but it needs our help.
Wont' you join us at Ocean Conservancy to protect these gentle giants?
The post Manatees and Baseball: A Match Made in Heaven appeared first on Ocean Conservancy.