The government has published the long-awaited Net-Zero Strategy, outlining how the UK will deliver on its commitment to reach net-zero emissions by 2050.
Building on the Prime Minister's 10 Point Plan, the government has said that these new commitments will unlock £90bn worth of private investment by 2030 and support 440,000 well-paid jobs in green industries. 
As part of the strategy, the government will invest an extra £350m to support the electrification of UK vehicles and supply chains, with another £620m for electric vehicle grants. 
Gill Nowell, head of electric Vehicles at LV= General Insurance, said: 'This is a move in the right direction but ultimately the devil will be in the detail.
'There needs to be an instrumental shift to increase the supply and availability of battery electric vehicles, so they are appealing for people across the UK, whatever their circumstances or income bracket.'
£3.9bn of new funding will be made available for the decarbonisation of buildings, the government also announced plans to introduce £5,000 grants to help households install low-carbon heating systems.
The government has said that through energy efficiency measures and the falling costs of renewables, the measures in the strategy also mean people's energy bills will be lower by 2024 than if no action was taken particularly as gas prices rise.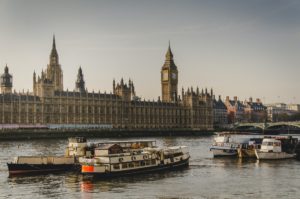 The government will also accelerate the commercialisation of sustainable aviation fuel and carbon capture technology. A further £124m will also be added to the Nature for Climate Fund to help restore approximately 280,000 hectares of peat in England by 2050. 
Prime Minister Boris Johnson said: 'The UK's path to ending our contribution to climate change will be paved with well-paid jobs, billions in investment and thriving green industries – powering our green industrial revolution across the country.
'By moving first and taking bold action, we will build a defining competitive edge in electric vehicles, offshore wind, carbon capture technology and more, whilst supporting people and businesses along the way.
'With the major climate summit COP26 just around the corner, our strategy sets the example for other countries to build back greener too as we lead the charge towards global net-zero.'
Chris Stark, chief executive of the Climate Change Committee said: 'We didn't have a plan before, now we do.
'This is a substantial step forward that lays out clearly the government's ambitions to cut emissions across the economy over the coming 15 years and beyond. It provides much more clarity about what lies ahead for businesses and individuals and the key actions required in the coming decades to deliver a Net Zero nation. It also gives the UK a strong basis to be president of the forthcoming COP26 summit.
'The critical next step is turning words into deeds. We have begun to assess the strategy in more detail and the extent to which the policies proposed in this strategy deliver their ambition.'
Photo by Shane Rounce